Domaine du Prieuré is a homestead of 4.000 s.m. located on the boundary of the village of Tonnay Boutonne in the heart of Charente Maritime.
Nested in a park, surrounded by walls and fences, the magnificent mansion made of Crazannes stones was a family home in the 19th century. The main building gathers, on three floors, 13 of the 15 rooms. The ground floor includes the reception, the lounge rooms and the dining room.
Next to it, a small house, vestige of the ancient priory, gives its name to the Domaine, and contains two more rooms (one by level, the room adapted for disable is on its ground floor).
You'll enjoy the quietness of its rooms in the morning, the calm of its park in the afternoon, the friendliness of its dining room in the evening and the relaxing atmosphere of its lounges all day long.
→ Discover our region
The hoteliers
This type of hotel is rare in France.
We think it addresses the real customers' needs, following the lodging industry mutations
– humanity and warmth
– confidence "a priori"
– hospitality
– simplicity et genuineness
The main characteristics of Domaine du Prieure are :
• Hosts welcome you in person, in their "home". They do their best to make you feel "at home". They help you to prepare a trip that meets your wishes.
• The cooking, simple and genuine, set the product in the center of the attention
• Breakfast is generous, made of fresh products from the bakeries of the village, brought to your seat by hosts themselves.
• It offers living rooms and outdoor places to rest, relax with others guests or privately.
• The property is at human scale.
• No room looks the same.
You wish to set up a party for family and/or friends, a working meeting, a whole week end. Please contact us to tell us what are your expectations, we will arrange a specific answer for you.
Domaine du Prieure can lodge up to 42 people in its different rooms (capacity varying from 1 to 6) and can accommodate up to 30 people in its restaurant (over these figures, a catering service under a tent may be possible).
For the hotel as for the restaurant we work as far as possible
with local small businesses as we are. It is :

At Tonnay Boutonne

The bakerie : Christophe Bonnin
The butcher, Sébastien Calleau, pour most parts of our fresh meats
The Coop for the grocery, and breakfast diary
Flowers of Florabulle
Spéciprod, nurseryman
Pro et Cie for electrical equipment et its maintenance
Point vert for gardening
Judickaël Richard EARL Champ des rochers à Saint Loup, for the goat fresh cheese
Julien Gourraud, for our honey
Christophe Barril, for other cheeses and butter
La Ferme de Bellevue, for organic oil and flour
The eggs of the poultry farm of the Boutonne
The movie theatre Rex to entertain you from Monday to Saturday night
AMJ Auto, for bike renting

Local area

Dom primeur for fruits and vegetables
La marée bleue, fishmonger at Tonnay Boutonne market every Friday
Beer of the artisan brewery Thiéfine
The bakerie Le fournil provençal at les Nouillers
Artisanal Charentais mustards and vinegars from la Moutarderie at Gourvillette
Single Malt of distillerie Bercloux
Handmade pasta Bléo 100% durum wheat grown and processed on the farm in Breuil-la-réorte
Allianz St Jean d'Angély for our insurance
Crédit Agricole at Saint Savinien for our banking
Fimeco accountant at Saint-Jean d'Angély

And a little further

Cofee and teas from MEO in La Madeleine lez Lille (our roots)
Jam of Lucien Georgelin, because it is very good !
The linen of Garnier-Thiébaut, because it's the French quality.
Fruits liqueurs from Merlet.
La Rochelle Boisson , our drinks' seller
Chestnut creme of Mas Rivière of Molières sur Cèze
Rumeau et fils at Champagne-Vigny, for his Pineau des Charentes appreciated of all our customers and his Cognac
Regional help for very small businesses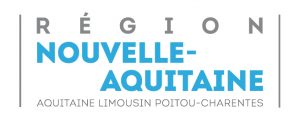 With financial support of Région Nouvelle Aquitaine – Aquitaine Limousin Poitou-Charentes.